Paul Crabb, Prometheus Artistic Director and Conductor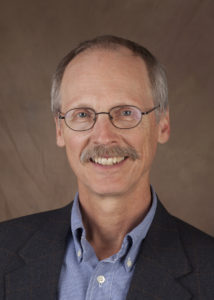 Prometheus Artistic Director and Conductor, R. Paul Crabb, is the Director of Choral Activities at the University of Missouri. With degrees in Music Education, Vocal Performance and Choral Music Education, his ensembles have performed at state, regional and national conventions and have traveled extensively in Mexico, Germany, Austria, Italy, Hungary, Slovakia, Czech Republic, Russia, Bulgaria, China and Australia. Crabb served as assistant conductor at the Russian/American Choral Symposium for two years where his choir served as the resident American choir at the Moscow Conservatory. He taught for one year as a visiting professor in Salzburg, Austria, where he worked with the the choir of the Salzburg Cathedral. He has taught conducting in Taiwan, 18th-century music in England, and studied 16th century polyphony in Italy with the renowned Peter Phillips. More recently he served as Guest Visiting Choral Professor at the Liszt Academy of Music in Budapest, Hungary – the first American selected for that position. In 2007 he became the first American conductor invited to lecture in the Choral Department at the University of Vienna's Universität für Musik und Darstellende Kunst. In 2008 Crabb accepted the position as Resident Guest Conductor of the Baroque Orchestra of Domenica Cimarosa in Avellino, Italy. He also accepted a position as the resident conductor for the Dante Music and Arts Festival in Nagoya, Japan during March of 2010. In 2015, he was awarded a research leave at MU, during which he lectured, performed and researched choral music at Lund University, Piteå College of Music, Malmö College of Music and the Royal Conservatory in Stockholm. He also presented seminars and workshops in Austria, Italy and Slovakia. Invitations for 2016 include Austria, Italy, China and Poland.
Crabb has also been recognized for his teaching skills. He was the recipient of the Walker and Doris Allen Teaching Award (Truman State University), Missouri's Professor of the Year and the William T. Kemper Award for Teaching Excellence from MU. His published research has appeared in the MENC research journal Update and Choral Journal. He has also published editions of choral music with several major publishers in the U.S.
---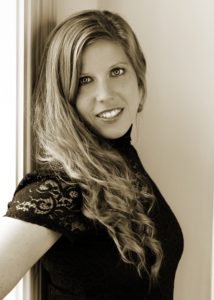 Emily Edgington Andrews, Prometheus Assistant Conductor
Long an advocate for quality musical arts in the community, Emily Edgington Andrews is extremely active in Columbia, working with children and adults at every level of their musical development. In 2013 Emily was appointed Artistic Director for the Columbia Chorale, and under her baton has helped to expand the non-profit organization to include more than 350 singers and eleven choral ensembles (including PROMETHEUS) under its new umbrella title Choral Arts Alliance of Missouri.
Emily joined the music faculty at the University of Missouri in 2015 as an Assistant Choral Director. Her role expanded in 2016 to also include the Director of Community Music Outreach, where she serves as a community liaison for the MU School of Music. She also teaches and conducts at Stephens College as an adjunct faculty member in the Performing Arts program. In addition to her work at the collegiate level, Emily enters her ninth year as one of the vocal music teachers at Columbia Independent School, the city's only non-sectarian college preparatory campus, conducting two of the six ensembles for students in grades 4-12, and her twelfth year as conductor at the historic Sacred Heart Catholic Church in Columbia, MO, where she maintains a thriving music program, conducting the 45-member Adult Choir of volunteer and paid musicians.
---
SINGERS
---
Brandon Browning, baritone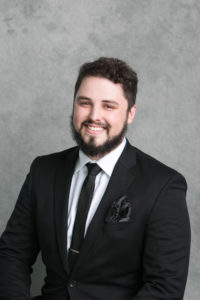 Brandon Browning graduated from the University of Missouri-Columbia with a Bachelor's of Science in Education and a Master's of Music in Vocal Performance.  After completing his schooling in Spring 2015, he moved to Kansas City where he enjoyed his first season singing in the bass section of the Kansas City Chorale.  He also joined the St. Paul's Episcopal Church Adult Choir, where he performed the baritone solo in Faure's Requiem in the fall.  Brandon is freelancing as a soloist in Kansas City and looks forward to his fifth season with Prometheus!  During the day, Brandon currently works at Hallmark Headquarters as a Technology Analyst.  
Eric Dalbey, countertenor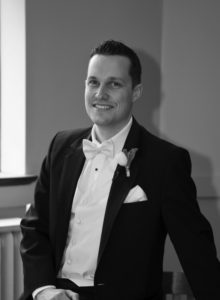 Eric Dalbey is a voice instructor at Webster University and Missouri Baptist University in St. Louis, Missouri.  He is a prominent vocalist in the St. Louis area and currently sings in Vocal Spectrum, the 2006 International Men's Quartet Champions, as well as several other vocal groups such as Prometheus, the Ambassadors of Harmony and Pro-Arte St. Louis.  Singing in these groups have given him many opportunities to teach and perform in places like China, Japan, New Zealand, Russia, Sweden, Germany, Spain and Israel.  He has also had the privilege of sharing the stage with the Beijing Symphony Orchestra as well as Dick Van Dyke, Take 6 and David Phelps. Eric has also had the privilege of making the final callbacks as countertenor for the Grammy Award-winning group Chanticleer. Eric holds a Master of Arts degree in Music and Worship from Covenant Theological Seminary, a Bachelor of Arts degree in Vocal Performance and a Bachelor of Science degree in Biology from Lindenwood University.  In his spare time, Eric enjoys traveling to new places and experiencing their food, drink, music and people. Eric and his wife, Elizabeth, are excited to welcome their second child this December!
Frank Fleschner, tenor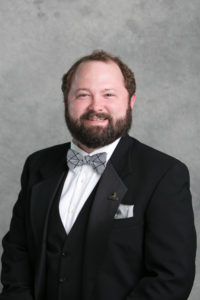 Frank Fleschner is an accomplished choral musician having just finished his tenth season with the Grammy Award-winning Kansas City Chorale.  His tenure with the Chorale has afforded him the opportunity to work closely with and debut works by several prominent composers such as Mark Hayes, René Clausen, and Eric Whitacre. As a soloist, Frank has appeared in Handel's Messiah and Bach's Johannes-Passion (Evangelist) and is the featured tenor soloist on the Kansas City Chorale's Grammy Award-winning recording of Rachmaninoff's All Night Vigil.  Frank graduated from Truman State University and currently resides in Kansas City with his wife, Lindsey.
Kaitlin Foley, soprano
Kaitlin Foley has been praised for her "crystalline vocals" and "beautiful singing." Ms. Foley is a supremely versatile performer with a passionate ear for early and new music. She has sung with the Haymarket Opera Company, Grant Park Chorus, Bella Voce, Schola Antiqua, Prometheus, and Chicago-based women's trio Artemisia. She achieved her M.M. in Voice Performance from DePaul University and completed her undergraduate work in music education at the University of Missouri. Ms. Foley is a Vocal Artist in Residence with the Rockefeller Chapel Choir, under the direction of James Kallembach, and is the director and founder of the Rockefeller Children's Choir.
Lindsey Lang, soprano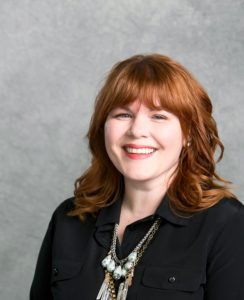 Lindsey Lang is noted for her bold interpretations of early music with a "tone [of] pure, radiant sunshine."  She has appeared as a soloist with modern and period orchestras nation-wide and has sung in main-stage events for early music festivals in Berkeley, Bloomington, New Brunswick, New York, and Quito, Ecuador.  Lindsey is also an avid choral singer and during the year can be found singing with the Kansas City Chorale under the direction of Charles Bruffy.  She was a featured soloist on their 2013 Grammy-winning CD "Life and Breath."  In addition to her work with the Chorale, Lindsey frequently performs with the Simon Carrington Chamber Singers, Sacabuche, the Spire Chamber Ensemble, and of course Prometheus.
Lindsey graduated with a Master's Degree in Choral Conducting from the University of Missouri in 2008 and then studied for two years at the Early Music Institute at Indiana University.  She currently resides in Kansas City, where she is the Music Director at Asbury United Methodist Church and maintains an active performing and teaching career.  She is married to fellow Prometheus tenor Frank Fleschner.
Gabe Lewis-O'Connor, bass
Gabe Lewis-O'Connor, bass, recently received a master's degree in choral conducting from the University of Missouri-Kansas City, after singing for four years with the vocal ensemble Chanticleer. Raised in Lawrence, Kansas, Gabe received a bachelor's degree in vocal performance from Lawrence University in Appleton, Wisconsin. Gabe is now the Director of Marketing and Public Relations for the choral music learning resource Choral Tracks, and lives in the Northeast with his wife Lauren and two feisty children.
Arwen Myers, soprano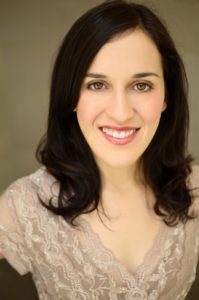 Arwen Myers, soprano, is quickly gaining a reputation as one of today's most intelligent and skilled interpreters of new and early music. Praised for her musical sensitivity and clarity of tone, Arwen is a versatile artist equally comfortable in oratorio, chamber music, and the recital stage. In 2014, she placed third nationally in the prestigious 2014 NATS Artist Award competition in Boston, MA, and she has twice competed in the semifinals of the Oratorio Society of New York solo competition. 2015-16 season highlights included solo appearances with Portland-based Musica Maestrale and The Ensemble, a recording of new works by Grammy-nominated composer and jazz pianist J.J. Wright, and appearances on Portland's Friends of Chamber Music's "Dinner with Friends" series and All Classical FM's "Thursdays at Three."  This season also marked the launch of Northwest Art Song, an ensemble devoted to the song recital launched this fall by Arwen, along with mezzo-soprano Laura Thoreson and pianist Susan McDaniel. She also appeared as a choral artist with Portland-based In Mulieribus, Cappella Romana, and The Ensemble, among others. Arwen holds bachelor's and master's degrees and a Performer's Diploma in vocal performance from Indiana University. A native of Augusta, GA, she is currently the music associate at Trinity Episcopal Cathedral in Portland, OR, and she is an active freelance artist both in the Northwest and across the United States.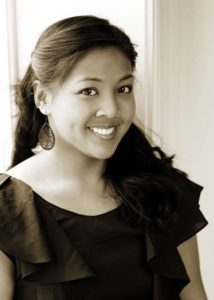 Christine Jarquio Nichols, mezzo-soprano
Christine Jarquio Nichols is an active music educator, singer, conductor, and pianist in Columbia. In addition to her full-time career teaching middle school vocal music, Christine directs and accompanies various ensembles with the Columbia Youth Choirs, as well as maintains private voice studios in Columbia and Mexico, Missouri. She is a frequent vocal concert soloist in the mid-Missouri area. Among several operatic performances, her most memorable role was singing the sassy Dorabella in Mozart's Così fan tutte. Christine enjoys singing in professional choral ensembles Prometheus, Vox Nova (a Columbia-based chamber ensemble she founded) and Pro-Arte of Saint Louis. She holds a dual Master of Music in Voice Performance and Choral Conducting, as well as a Bachelor of Science in Vocal Music Education.
Kyle Stegall, tenor
Internationally acclaimed tenor Kyle Stegall is a graduate of the Universities of Missouri, Michigan, and Yale.  While a student at MU, he was a pupil of Ann Harrell, and shortly after graduation he founded Prometheus: An American Vocal Consort.
Kyle is active throughout each year as a recitalist, chamber musician, and concert soloist.  Engagements this season have included performances with Antiqva Panama, The Boulder Philharmonic, Seraphic Fire, the Bach Society of St. Louis, and many more. Known for his attention to style and detail, Kyle is especially in demand in music of the French and German baroque.  His New York performance of Charpentier's Actéon with William Christie was called "intense and convincing" by Seen and Heard International, and he was praised by the NY Times for his "lovely tone and ardent expression" when he made his Lincoln Center debut as the evangelist in Bach's Johannes Passion under the direction of Masaaki Suzuki.
This season the American Bach Soloists release their Blu-Ray DVD of Handel's Messiah from Grace Cathedral, in which Kyle is featured as tenor soloist. Upcoming engagements include recital appearances at the Melbourne Recital Center, The Center for British Art in New Haven, and a tour of China as Tamino in Mozart's Die Zauberflöte.  When not performing, Kyle maintains a private voice studio in San Francisco.  
Nickolas Stoppel, bass-baritone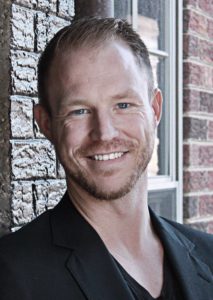 Nickolas Stoppel, is a graduate of the University of Missouri-Kansas City Conservatory of Music and Dance with a B.A. in Music. After moving to Kansas City in 2008, he has contributed to Kansas City's thriving arts scene both as a soloist and group member. As a versatile musician he has been seen singing backup for pop and jazz artists Josh Groban and Patti Austin. He is thrilled to be in his fourth season with the GRAMMY® Award-winning Kansas City Chorale, while performing internationally with the Irish chorus Anúna. As a member of Anúna, he has appeared on tours throughout the Netherlands, United Kingdom, Ireland, Belgium, Japan, and China and recently was honored to present at the American Choral Directors Association national conference in Salt Lake City, Utah. Nickolas has sung under the direction of Ryan Board, Andre Thomas, Simon Carrington, Michael McGlynn, and Charles Bruffy, and studies privately with Anne DeLaunay. In addition to singing, Nickolas is a personal trainer at the Jewish Community Center of Greater Kansas City.
Edward Straub, baritone
Edward Straub grew up in Kansas City, Missouri and sang under the direction of Dr. Harrison "Bud" Boughton during his studies at the University of Missouri – Columbia.  Mr. Straub has sung with the acclaimed Simon Carrington Chamber Singers for four seasons, and he also sings with the Kansas City Collegium Vocale chamber ensemble under the direction of Dr. Ryan Board.   Among other groups, he was previously a member of the Greater Kansas City Chapter of the American Guild of Organists Schola Cantorum choral ensemble in 2005 – 2008, led by Dale Shetler, and is now excited to unite his voice with his colleagues and friends singing in Prometheus.  A Summa Cum Laude graduate of the University of Missouri – Columbia, Straub received his Bachelor of Science degree in Electrical Engineering in 2004.  He is employed as a Technical Lead Design Engineer in the Aviation division of Garmin International in Olathe, Kansas.  From 2005 – 2009 he served as one of the hardware designers of the Garmin GTS family of Traffic Advisory (TAS) and Traffic Collision Avoidance (TCAS I) Systems, and he currently serves as the Project Engineer for the recently completed Garmin GRA Digital Radar Altimeter line of products.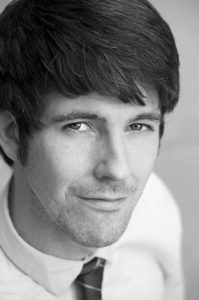 Timothy Whipple, baritone
Timothy Whipple holds the Master of Music degree in Vocal Pedagogy from the New England Conservatory of Music and the Bachelor of Music degree in Vocal Performance from the University of Missouri. He most recently performed the role of John in Naomi in the Living Room with Boston Opera Collaborative and was also the bass soloist in Bach's Ich habe genug with the Carr Collegium, a student-led ensemble at the New England Conservatory of Music. He serves as the Director of Vocal Studies for the Boston City Singers — providing vocal instruction to over fifty middle school and high school-aged students in the Boston area. In addition to teaching, he continues to perform with choruses and orchestras throughout New England — both as a soloist and chorister. He currently studies with Michael Meraw, and has previously studied under Karen Holvik, Ann Harrell, and Millicent Daugherty.
Robert E. Battle, Jr., Countertenor
Joining Prometheus for his first season, Robert Battle is no stranger to a diversity of genres. Originally from St. Louis, MO, Robert holds a Master of Public Affairs degree from the University of Missouri in Columbia and a Bachelor of Music Education degree from the Conservatory of Music & Dance at the University of Missouri-Kansas City. Robert sang for many seasons with the Kantorei of Kansas City ensemble, the Kansas City Symphony Chorus under Charles Bruffy, and currently sings with the Vox Nova of Columbia ensemble. Employed by Columbia Public Schools, Robert teaches vocal music at John B. Lange Middle School and is the co-artistic director of the Columbia Public Schools 5th Grade Honors Choir, a 130-member ensemble of young singers. When not singing, Robert is song writing, playing organ, cooking, gardening, serving on nonprofit boards, reading short stories by David Sedaris, or hanging with his partner Ted and their miniature schnauzer, Oscar.
Jeffrey Howe, Tenor
Jeffrey Howe has been featured extensively as both chorister and soloist with several ensembles throughout the country.  Jeffrey attended William Jewell College in Liberty, Missouri and studied voice with Jay Carter and conducting with Anthony Maglione. During his studies in the Kansas City area Jeffrey sang with several professional ensembles, including Kantorei of Kansas City, Te Deum, and the Kansas City Chorale, where he appeared as a vocalist on their 2016 Grammy-winning album, Rachmaninov All-Night Vigil. Jeffrey currently lives in Saint Paul, Minnesota.
Sarah Tannehill, Soprano
Sarah holds a Master of Music in Vocal Performance from UMKC and a Bachelor of Music in Voice Performance from Missouri State University. She has performed with the Opera Company of Philadelphia, Boston Lyric, Opera Omaha, Fort Worth Opera, the Chicago Symphony Orchestra, and others. She is also a member of the Kansas City Chorale, Bach Aria Soloists, Lyric Arts Trio, and the St. Paul's Episcopal Church choir. She has performed with the Kansas City Symphony, Kansas City Chamber Orchestra, New Ear Ensemble, Kansas City Ballet, and Heartland Men's Chorus. Sarah teaches voice in Kansas City and lives in Union Hill with her husband, fellow singer Sam Anderson.